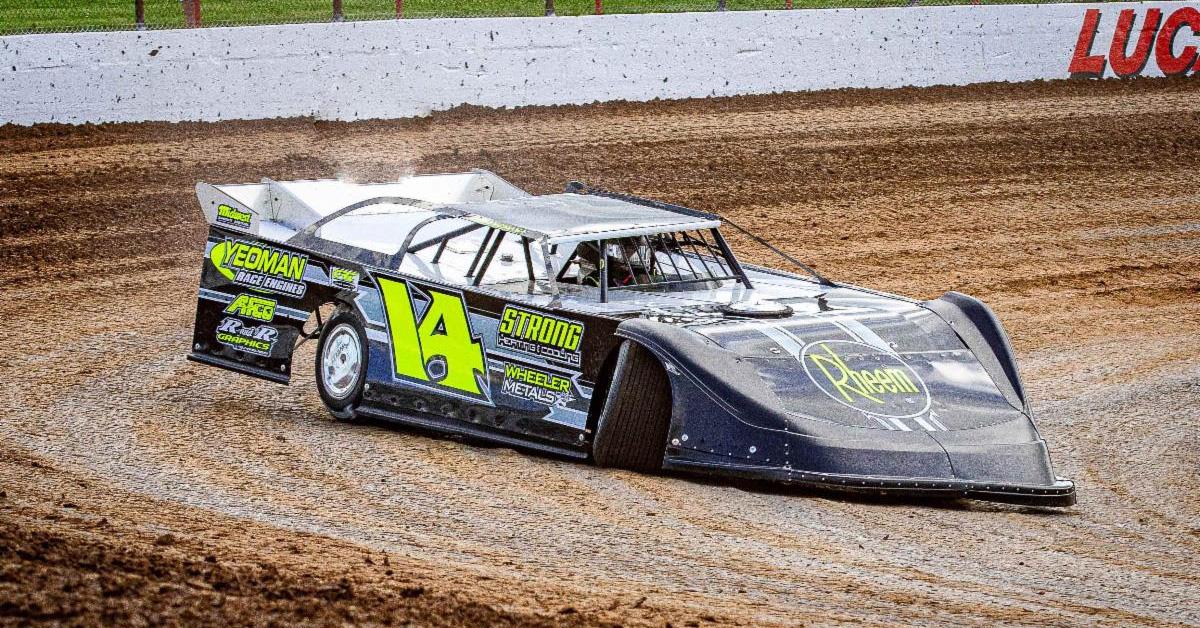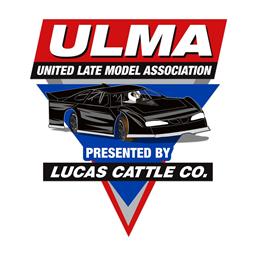 5/28/2020
United Late Model Association
---
LUCAS CATTLE COMPANY ULMA SPOTLIGHT: "EXCITED" STRONG SETTLING INTO LATE MODEL RIDE
WHEATLAND, Missouri (May 28, 2020) - Long-time Lucas Oil Speedway fans might remember Shawn Strong as a top contender in the USRA B-Mod division for several years. Yet even while winning B-Mod races, Strong considered himself a Late Model driver at heart.
So it seems fitting that Strong has returned to regularly race at the speedway this season, in the Warsaw Auto Marine & RV ULMA Late Model division. After finishing fourth and seventh the first two weeks, the Republic driver feels like he's settling in nicely with even better results ahead.
"I'm actually pretty excited, being kind of new to the Late Model game," Strong said. "The car has an insane amount of speed. We had a battery, or something, go bad on lap four last week and kind of killed what we felt was a pretty good night for us. I felt we had a second-place car.
"So I'm really happy with the car. We've been fast and that's a good sign."
Strong and the ULMA Late Models Presented by Lucas Cattle Company will be featured on Saturday at Lucas Oil Speedway, running a 25-lap feature paying $1,000 to win courtesy of Hickamo Country Store. The Big Adventure RV Weekly Racing Series program presented by Benne Media also will see the Pitts Homes USRA Modifieds, O'Reilly Auto Parts Street Stocks and Ozark Golf Cars USRA B-Mods in action.
Sitting just outside a top five in points and just 22 points behind leader Kaeden Cornell, Strong looks to dial in his Late Model a bit more this week. A three-time Lucas Oil Speedway feature winner in B-Mods back in 2016, Strong dabbled with USRA Modifieds in 2018 and found it unsatisfying.
"I was driving for a guy and it wasn't a top-notch, newer car like a lot of the Modified guys are running today," Strong said. "We were coming to Lucas quite a bit and running seventh or eighth. We got to talking and figured that's probably all the car has really got. Seventh or eighth on a weekly show doesn't really pay the bills."
Strong found a Late Model and went racing on the Cash Money Late Model Series some last season.
"I've always been a Late Model guy," Strong said, noting his uncle Bob Aton - an Ozarks Area Racers Foundation Hall of Famer - was a custom race-car painter and Late Model driver when Strong was growing up. "Going to the races and watching him, I always wanted to drive a Late Model.
"I'm kind of getting to that point of my career where the racing days are probably numbered," Strong explained. "My (eighth-grade) daughter plays travel basketball and this and that. I don't want to miss seeing her grow up. I thought that before I'm done, I want to drive a Late Model.
"I had what I felt was a pretty solid career in the B-Mod and didn't have anything else left to prove in that. So I did the Cash Money Series deal last year, but my love has always been Lucas Oil Speedway. It seems that's where my comfort zone is. So I made the decision over the winter to get my personal car out, me and Brad Looney. He's a few days from being ready and a little bit behind me.
"We decided that we were going to run this ULMA deal. So far it looks like it's going to be a lot of fun and a good, competitive year."
Strong said his 2015 Rocket is much younger than its age, saying MLRA driver Austin Siebert drove it "eight or nine times before selling it to a guy in Sedalia who let it sit for two years. I was able to pick it up with minimal races on it."
As for the ULMA competition, Strong said he knew it was going to be challenging with veterans like Johnny Fennewald and Aaron Marrant, "but there's five or six people who can win a race. It's going to be tough," he said.
Strong credits area racing veteran and car builder Tony Jackson Jr. with helping him get the car prepared the right way during the offseason.
"Tony's been good to me my whole career," Strong said. "Any time I've had a question, he's been there for me. He's put me weeks, maybe months, ahead of the curve. I've figured out some things that I needed to, for me, but a lot of the credit for where I'm at right now goes to Tony for helping me get the car good, right out of the box."
Looking ahead, Strong said his goals for the 2020 season are to make those who help him look good on the track. Long-time crew chief Mike Warnow is alongside for the ups and downs that racing can dish out and Strong laughed that "Mike has been with me forever. He takes his butt chewings when I'm mad about how we run."
"I've always had good people around me - Yeoman Race Engines, AFCO Shocks, Wheeler Metals, Chris Davis with Midwest Sheet Metal, R&R Graphics - these guys have stuck behind me for so many years," Strong added. "I feel that I owe it to them to try and at least take a shot at the championship and Rookie of the Year seems like it's something that's real do-able.
"If we could run in the top three in points and maybe be an even bigger contender next year, that's kind of the goal. But I'm always there to try and win."
Shawn Strong is part of a tight points race in the early going of the Warsaw Auto Marine & RV ULMA class. (GS Stanek Racing Photography)
Warsaw Auto Marine & RV ULMA top 10 points: Kaeden Cornell 187, Cole Henson 186, Aaron Marrant 179, Larry Ferris 175, Johnny Fennewald 170, Shawn Strong 165, Tucker Cox 162, Chad Richwine 154, Walt Imhoff 138, Dustin Walker 134.
Social distancing measures again will be in effect on Saturday. Families may sit together, but otherwise fans should maintain a 6-foot distance in the grandstands and while in lines for other areas such as concessions, gift shop and go-karts. Drivers are advised to again leave one hauler's space between each other in the pit area.
Fans on the midway also can check out two WR1 Sim Chassis custom built for the speedway and preloaded with iRacing. All fans that play will get a gift certificate for a 3-month subscription to iRacing, valued at a regular price of $33.
A Lucas Oil Speedway driver will come to the midway and set a time to beat. The fan setting the fastest lap time on the WR1 Sim will receive a Lucas Oil Speedway gift car and, if they also beat the driver's fast time, a bonus will be added to the card.
Gates are scheduled to open at 4 p.m. Saturday with hot laps at 6:30 and racing at 7:05.
Ticket prices:
Adults (16 and over): $12
Seniors (62 and over)/Military: $9
Youth (ages 6-15): $5
Kids (5 and under): FREE
Family Pass: $30
Pit Pass: $30
For all of the latest news and information on the ULMA, including the full 2020 schedule.
Fans may also "like" the Lucas Cattle Company ULMA Facebook page to follow series news throughout the 2020 season.
Back to News